Children's Foot Brush
SKU: 071011
Imagine this... it's been a beautiful summer day outdoors, you've had a day running round the park, maybe in a pool; you look down, and the tiny feet of your little ones are hardly recognizable. Cleaning them up is often not quite as much fun as getting them dirty. Luckily, our soft foot brush for the little ones not only makes it easier, but also lets the kids continue to have fun, especially when "doing it themselves".
Made from oiled beechwood and soft, light bristle this brush is perfect to keep by the tap, shower, bath, or wherever you'd like it. Measuring 11 x 5 cm its perfectly sized to help little hands hold onto it, whilst being big enough to keep the job speedy. 
Designed and developed by Redecker in Germany, quality brush manufacturers since 1935, most of our collection is manufactured at the Redecker workshops, although some items require specialist manufacturing processes in other parts of the world.
With over 80 years experience in brush making, the family owned business continues to work using traditional methods and natural materials sourced from across the globe.
The Oxford Brush Company is based in the Cotswolds near Oxford and takes pride in sourcing and selling the exquisite traditional and modern collection of Redecker branded brushes to the UK market.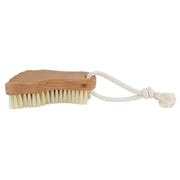 Children's Foot Brush