Natural Bath Sponge with Duck - 9cm
SKU: 608011
Perfect for babies, tots, or grown ups who enjoy the company of a duck in their bath, our high quality, natural bath sponge comes complete with a hand crafted, untreated beechwood duckling attached by means of a cotton rope. Sponge measures approximately 9cm diameter.
Our natural sponges are harvested by hand from the Mediterranean sea. Rinse with clean water after each use and allow to air dry. Do not wring; machine wash at low temperatures only (30 degrees C max).
Suitable for babies and small children with supervision.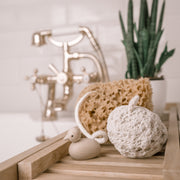 Natural Bath Sponge with Duck - 9cm