An ingenious way to use up the last, fiddly bits of soap: simply pop them into this natural sisal bag with cotton rope drawstring cord and then use it to wash (and exfoliate at the same time!) in the bath or shower.
Also useful as a soap holder when travelling - simply use it to store soap, to wash and exfoliate, then to allow soap to dry out before returning home.
Eco friendly, plastic free, thrify and economical, it keeps the soap dish tidy and allows soap to dry out naturally. Measures 12.5cm long x 11cm wide and finished with a wooden bead.
Designed and developed by Redecker in Germany, quality brush manufacturers since 1935, most of our collection is manufactured at the Redecker workshops, although some items require specialist manufacturing processes in other parts of the world.
With over 80 years experience in brush making, the family owned business continues to work using traditional methods and natural materials sourced from across the globe.
The Oxford Brush Company is based in the Cotswolds near Oxford and takes pride in sourcing and selling the exquisite traditional and modern collection of Redecker branded brushes to the UK market.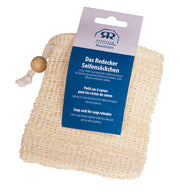 Soap Pouch