Pocket sized and indispensable, our dinky, folding, double laptop brush bears two rows of soft, light goat hair on one oiled beechwood brush and two rows of stiff, black, boar bristle on the other, smaller brush, both joined together by means of a moveable screw fitting which allows each to be used in turn then folded back to store in a pocket, bag or briefcase. Perfect as a stocking filler at Christmas, as a thank you to a business colleague or just to keep for one's own computer housekeeping management. Measures 7.5cm long.
Designed and developed by Redecker in Germany, quality brush manufacturers since 1935, most of our collection is manufactured at the Redecker workshops, although some items require specialist manufacturing processes in other parts of the world.
With over 80 years experience in brush making, the family owned business continues to work using traditional methods and natural materials sourced from across the globe.
The Oxford Brush Company is based in the Cotswolds near Oxford and takes pride in sourcing and selling the exquisite traditional and modern collection of Redecker branded brushes to the UK market.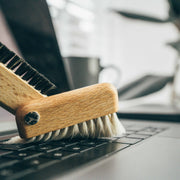 Laptop Brush